add bookmark
The County's Fiddlehead Festival
5/20/22 - 5/22/22
Come celebrate springtime in Aroostook County at the County's Annual Fiddlehead Festival!
Bring the entire family to make part in the list of family-friendly events below. There will be something for everyone to take part in! For a updated list of events, please visit here
Kick off for the festivities begin on Friday with a free concert brought to you by the City of Presque Isle. Jam out at the Presque Isle Bicentennial Park for an evening of music and fun for the entire family.
Saturday continues the fun with a morning birdwatching tour with local bird watching expert Bill Sheehan at 7:30 AM followed by the opening of the Presque Isle Farmers Market both at the Farmers Market Pavilion. Take part in hearing the songs of spring and support local farmers in buying fresh produce of Northern Maine. For updates on the Farmers Market please click here.
The start of the second annual Fiddlehead Cooking Competition begins at 9AM and it is not too late to sign up and show the judges your hidden culinary skill with fiddleheads! Competitors compete in categories of Student, Home Chef, & Professional depending on your skill level with all being able to compete for the coveted prize of People's Choice Award! This award is decided by the people who sign up to be tasters. Sign up to compete, taste and watch the excitement! For official rules, to sign up as a competitor or a taster, please click here.
Not interested in live cooking? No worries! New to 2022 The Fiddlehead Cooking competition will allow for fair-style entries for the "Bring Your Best Fiddlehead Dish" Contest on Saturday as well. Here, contestants sign up to cook at home and bring to the Northern Maine Community College Reed Commons Lobby on Saturday, May 21st and will be promptly judged at 11:35 AM. To learn more about this exciting event or how to enter, please click here.
Northern Maine has a rich history of craftmanship and culture why not support both on Saturday at the Central Aroostook Chamber's Spring Craft Fair and the Aroostook Centre Mall! Many local vendors will be there to display their wares with crafters being encouraged but not required to carry something fiddlehead themed. This will be from 9:00 a.m. – 4:00 p.m. on Saturday, May 21, 2022. Vendor spaces are still available at $60.00 without electric or $65.00 with electricity, before May 8. To register, please visit: https://centralaroostookchamber.com/.../spring-craft-fair. In addition to the Craft Fair, the Aroostook Partners in the Arts will be showcasing local artisans' talents in an Art Battle in the Aroostook Centre Mall at 11AM. Contestants will have one hour to complete their best work of art that is Fiddlehead themed. This event is free to watch and afterwards the local works are auctioned off with proceeds benefiting art education and outreach locally in Aroostook County. To learn more about this exciting event, please visit here.
Join the festivities with a live pageant show for who will be crowned Miss Northern Maine for 2022! The show starts at 3:00 PM at the Presque Isle Inn & Convention Center followed by a formal crowning at 6PM just in time to prepare for the evening's fireworks show brought to you by the City of Presque Isle in the downtown retail shopping area. Take the time to watch the show and support local merchants to end this fun filled day.
Sunday will wind down the festivities with the showcase closing event of a Fiddlehead Picking Competition. How many fiddleheads can you pick in two minutes? Come find out to see if you can pick the most fiddleheads in this new race for 2022! This is a free event at the Aroostook Boat Launch near the intersection of Reach Road & Main Street with the first round of contestants starting at 1:15 PM. At 2:00 PM Central Aroostook Soil & Water Conservation staff will tabulate this year's fastest picker of the most fiddleheads! After the race, attendees will have the opportunity to learn how to identify fiddleheads in the wild, how to clean and store fiddleheads for after season. Bring the whole family to this unique picking experience!
---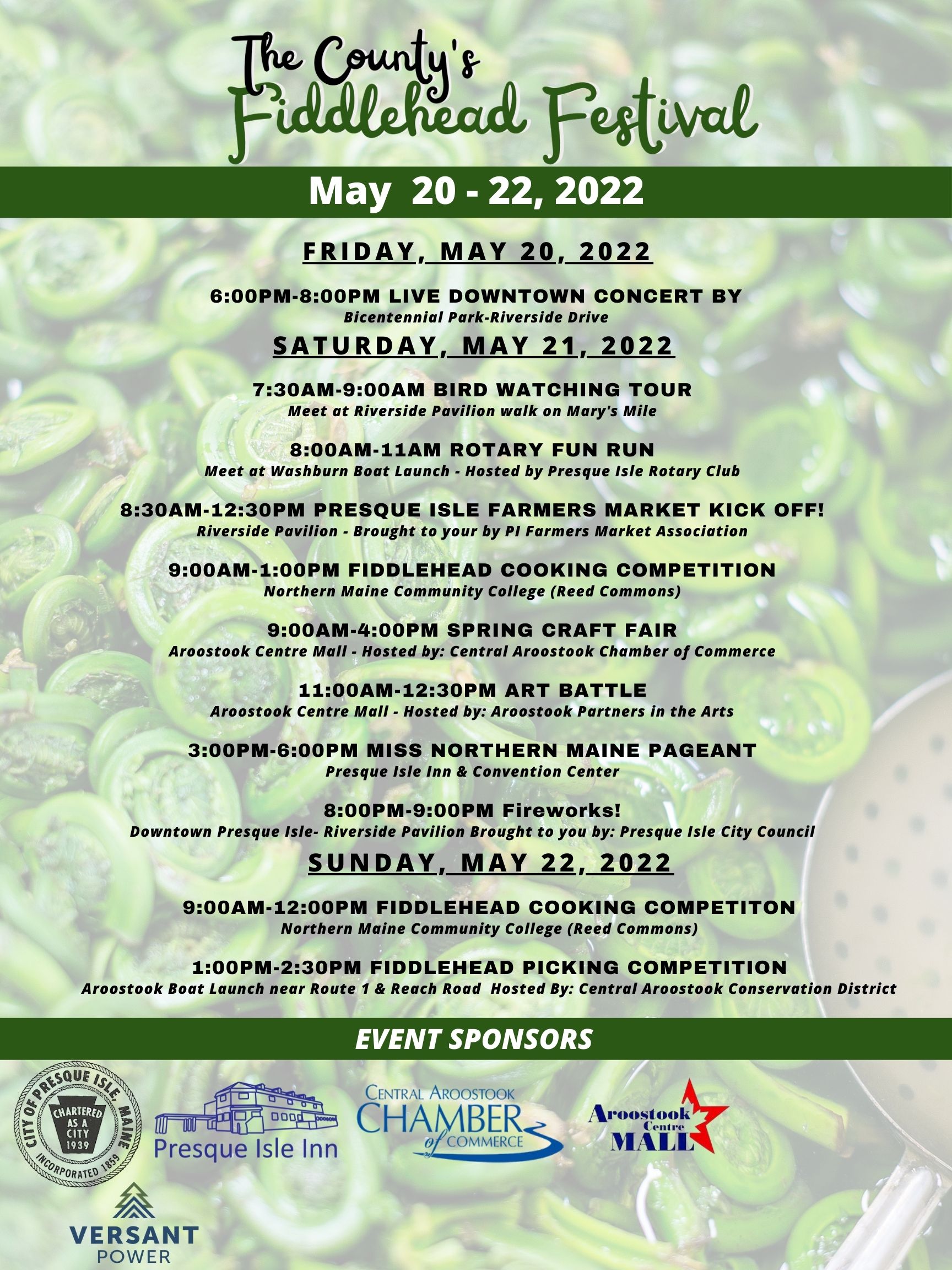 All Day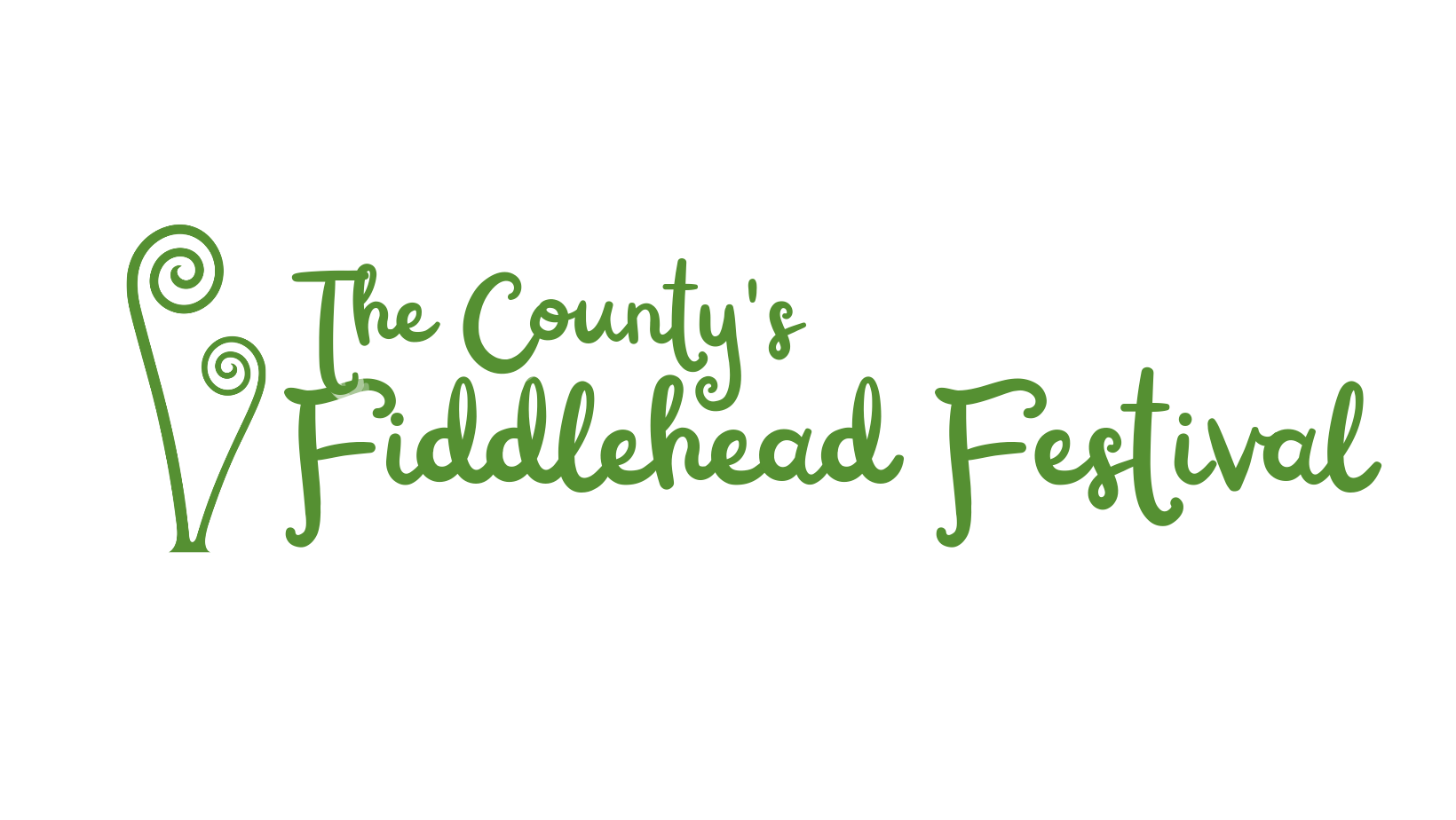 Price FREE
Address City-wide in Presque Isle (33 Edgemont Drive) (830 Main Street) (27 Riverside Drive)
Presque Isle, Maine 04769
Website downtownpi.square.site
Phone 207-760-2727