add bookmark
Brunswick Downtown Associations' Community BBQ
6/22/19
Please join us as at a Community BBQ as we pay tribute to First Responders. Live music & fun activites for the whole family; bounce house, face painting, tractor-train rides, puppies & more!. Meals: $5 +under. FMI: brunswick downtown.org
Please join us as at a Community BBQ as we pay tribute to Brunswick's Fire, Police and Rescue personnel to recognize their service and dedication to our community. We will also be welcoming new residents to our community.
The BBQ will take place on the Town Mall (Green) on Maine Street in downtown Brunswick, 11:30 am to 2:00 pm. Adults: $5 per person. Kids: 5 and under $3, all cooked by Celebrity grillers! No fee for First Responders. Meal includes choice of hamburger or 2 hot dogs, chips, cookie, watermelon & beverage.
Tickets only available at the door. Bring a blanket or lawn chair for seating. Everyone welcome!
*Live music by Los Galactacos, whose repertoire includes Mariachi, southwestern, country blues, gypsy jazz, and Italian and Irish folk songs.
Fun games for the whole family!
Face painting by Presenting sponsor: Bangor Savings Bank
Tractor Train Rides by Ray Labbe & Sons
Bounce House by Pathway Vineyard Church
Puppies and other furry creatures from the Midcoast Humane.
Climb in and explore ACTIVE Brunswick Fire Trucks
Town Mall (Green), Maine Street, Brunswick (Map).
11:30 am to 2 pm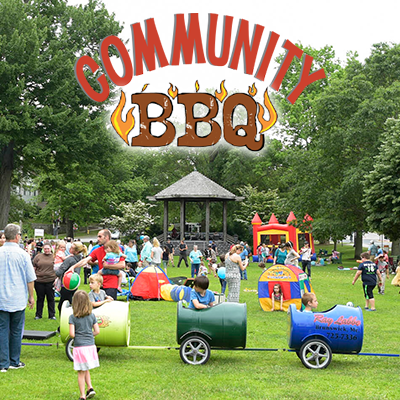 Price $5 per person, kids 5 and under $3. First Responders eat FREE!
Address 85 Maine Street, P.O.Box 15
Brunswick, Maine 04011
Website brunswickdowntown.org
Phone 207-729-4439