add bookmark
Ski BigRock & Stay at the Northeastland Hotel
Experience winter in the Crown of Maine with a two tight stay at Presque Isle's premier Northeastland Hotel with a winter escape package that includes includes two, yes TWO Day Passes to BigRock Mountain! (day pass value $45 per day pass) for $250 plus 9% state tax!! Available Thursday through Sunday nights only (there is no skiing Monday through Wednesday).
About the Northeastland Hotel
Feel Right at Home at Our Hotel, RELAX AT PRESQUE ISLE'S ICONIC DOWNTOWN HOTEL.
When you stay at The Northeastland Hotel, you will enjoy a comfortable and well-furnished room. We offer spacious rooms with 2 Queen size beds, 1 Queen size bed, or a California King suite. You will rejuvenate and relax in a spacious room on a pillow-top bed. When your day begins, we offer you a complimentary Breakfast Bag. Nearby restaurants offer breakfast, lunch, and dinner. Our first floor single Queen rooms are pet friendly.
About BigRock Mountain
We're committed to making skiing an outdoor activity for the whole family to enjoy.
Just over 2 hours from Bangor, Maine, or Fredericton, New Brunswick
Terrain Park has 20+ elements and ready to shred!
Delicious home-style meals in the BigRock Mountain Café
We offer our improved facilities and state of the art equipment all at reduced family-friendly prices.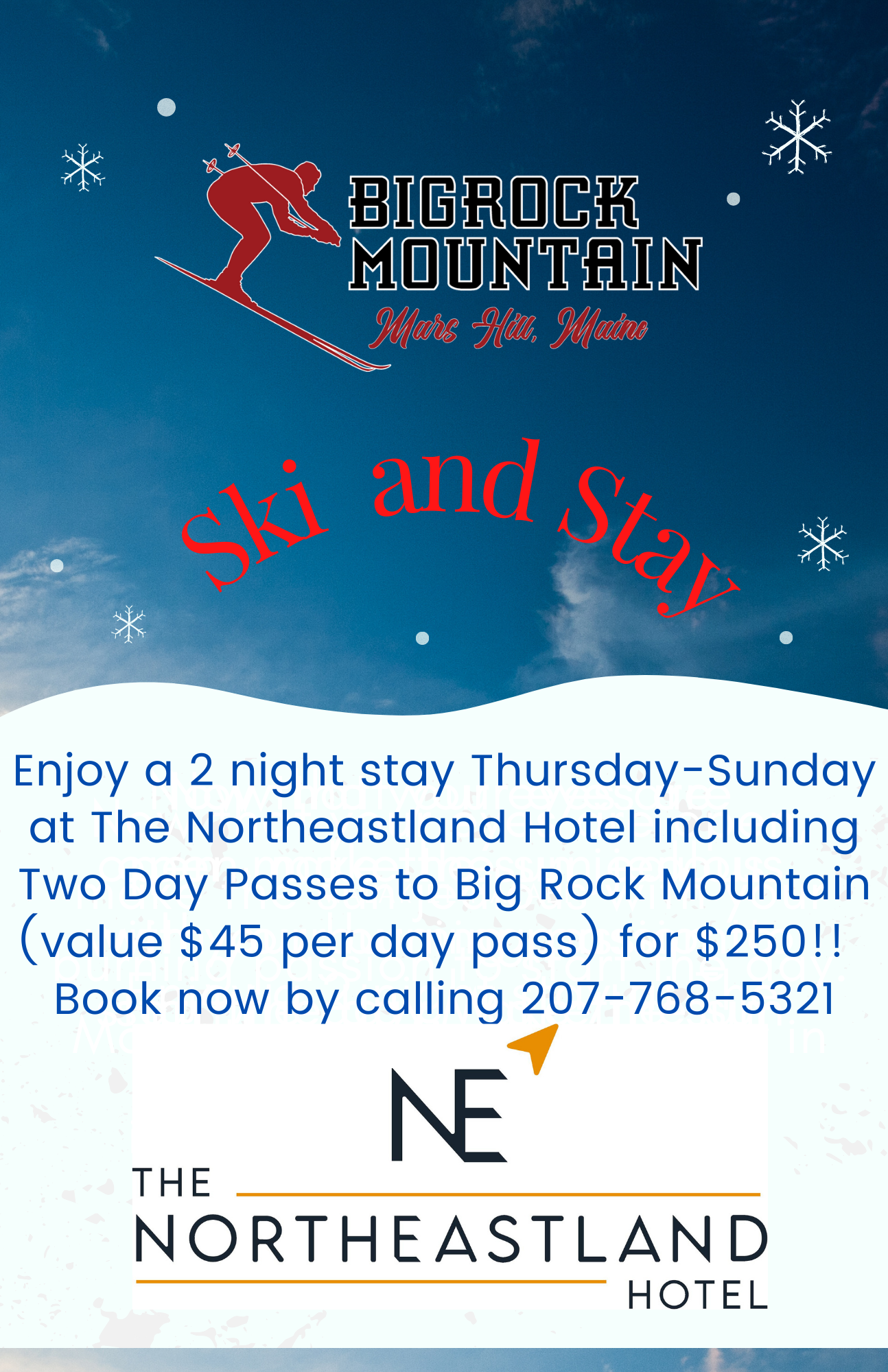 Restrictions and Terms of Use
Offer available until April 30, 2022. Valid Thursday through Sunday only. Ski pass is for one full day at Big Rock Mountain in Mars Hill, Maine. The ski pass is a $45 dollar value. Must lodge at the Northeastland Hotel for this discounted pricing.